Graham Black
LLM Construction Law & Arbitration – Robert Gordon University, Aberdeen
BSc (Hons) Construction Commercial Management –Nottingham Trent University
BTEC HND Civil Engineering & Structures – Sheffield Hallam University
Prince 2 Qualified Practitioner
APMP Certified Project Manager & Qualified Practitioner
CIArb Chartered Member of the Institute of Arbitrators
MCIOB Chartered Member of the Institute of Building
MAPM Member of the Association of Project Management
​Graham has maintained a passion throughout his carrier for building and construction.  This all started from the beginning as a civil engineer, where he worked on a number of prestigious and challenging projects.  His construction experience developed into building projects, delivering buildings, facilities and spaces for a wealth of different end users and institutions.
Using this experience and understanding, with confidence he became a consultant project manager.  For approaching 20 years Graham has been across a wealth of sectors helping clients deliver a significant number of projects.
He is qualified with a BSc Hons in Construction Commercial Management whilst also obtaining an LLM in Construction Law and Arbitration. He is a full member of CIArb, CIOB and the APM. In delivering projects he is also a qualified practitioner in PRINCE2 and APMP methodologies.
A valued attribute by clients is his ability to listen and understand the objectives for a project and turn this into a clear and deliverable strategy, which minimises risk and maximises efficiency.  His experience brings a level of confidence, confidence and problem-solving capability.  He is a good communicator and negotiator with teams and stakeholders.
To Graham, the value and ability of the team are critical.  He would say that the construction industry is more about 'people' than 'bricks and sticks!'  He prioritises the support and mentoring of his team in order to develop a solid delivery across all projects.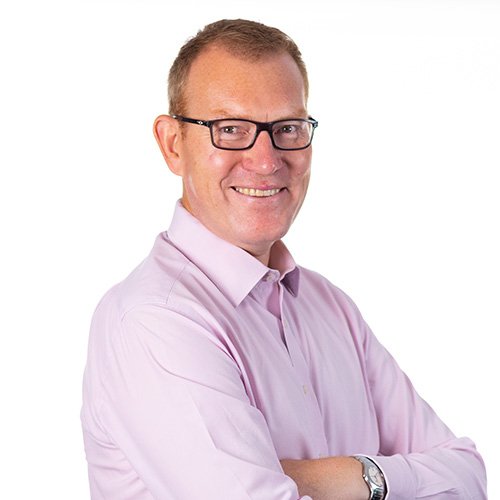 What got you into the Construction / Property industry?
At school, I wanted to be an accountant. Whilst on a work experience with a civil engineering company, I quickly realised it was construction and not accounting that would inspire me. Having then studied Civil Engineering at University, I started out in contracting as an engineer and planner, before progressing through design coordination and construction management. In the years leading up to establishing Tandem, I also had the benefit of working for two larger consultancy practices, leading their regional project management teams. Setting up and leading my own team has been a really great thing to experience.
Is being qualified important?
Academic and professional qualifications provide you (and importantly others) with confidence. The learning process itself and the innovation brought about by continuously developing and updating your qualifications is what brings real tangible advantage. After obtaining a BTEC HND, I proceeded to an Honours degree in Construction Management and, later, a Master's degree in Law. Similarly, my continuous development professionally is guided through involvement in a number of chartered institutions.
Is your experience best measured in years or number of projects?
Looking back, it is hard to believe that nearly 20 years of professional experience have flown by. However, I am proud of the variety of projects I have had the fortune, pleasure and excitement to deliver and this in turn has increased my confidence and knowledge. From projects such as water treatment works, roads and bridges, a rugby stadium, scientific laboratories, manufacturing facilities to workplaces and community centres, there have been no two projects the same. Consultants are all too often selected on whether they have previously delivered a carbon copy project…I believe this belief of a 'safe pair of hands' is unfounded and unfortunately, the opportunity to drive greater value into the project is lost. Controversial maybe, but specialised, one-trick pony consultants, will only ever keep delivering the next project much the same as the last. A variety of ideas and passion to make difference is more important.
Is managing projects successfully a generic or industry specific skill?
The term 'Project Manager' has become all too common across all. People are cynical as to whether the role has a purpose! Whilst many of the attributes and skills of a project manager can be found in general management, the two should not be confused. Managing projects is different; to do it well takes a special set of skills and the experience and confidence to deal with the tricky things, from which run away. Deadlines, objectives and targets are real. Good project managers can work outside their comfort zone and still deliver, indeed both myself and others at Tandem have helped our clients often deliver projects completely unrelated to the construction itself!
In projects, where do you add the greatest value?
Tricky one to answer – please ask any of our clients! I certainly enjoy the challenge of coming up with a plan and strategy. When there is a lot to be done, a plan is essential. To keep everyone happy, engaged and on track for success – a clearly communicated plan is a pretty good start.
What is the most exciting bit of delivering projects?
As a project manager, and certainly, in construction, you get to know a little bit about a lot of things. You never stop learning. 
What does 'together we can…' mean to you?
When coming up with the name of the business "Tandem Projects', it did not take long. It was clear to us that it was about 'working together', whether that is internally at Tandem, with other consultants, or contractors. However, most importantly, it is about working with our clients. Delivering projects successfully is a team game – the way for this to work best is for everyone to roll up their sleeves and work together.
When not working where would you be found?
Carrying out DIY tasks in our family home. Being with the family or out running with our dog.
What was your worst mistake?
Thinking that somehow, I would simply just pass my A-Levels by turning up – I failed the lot! It was a tough lesson at the time, but probably been the best thing that's ever happened in my career.
What's your most played music track?
Iggy Pop – Lust for Life – a brilliant track to run to!
What's the best piece of advice you could give someone?
Always play a straight bat.