Glyn has been working in the construction industry for more than thirty years. With a BSc in Quantity Surveying and MRICS qualified, Glyn offers robust and efficient quantity surveying skills, advice and services, designed to underpin careful cost planning and prioritise planning for profit.
He started his career on the client side but has also worked for subcontractors and main contractors involved in new build and refurbishment projects, covering residential, commercial, social housing and the care sector. Complementing his QS skills, Glyn has considerable experience of Contract Administrator and Employer's Agent roles. Substantial experience in people management enables him to provide confident leadership of a project team.
Glyn is adept at creating and maintaining purposeful team momentum through the systematic agreement of processes and actions to ensure compliance with the programme, thus maintaining a clear project roadmap to a successful build and profitable conclusion.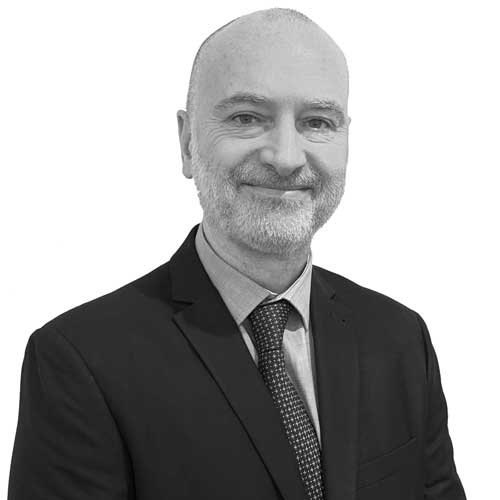 What got you into the Construction / Property industry?
I have always been fascinated by the construction process and found satisfaction in the completion of processes and the reconciliation of numbers. After some early interest in accountancy as a teenager, I stumbled across the role of Quantity Surveyor… a role that combines a love of numbers with a passion for construction. The rest is history…
Did you qualify first or later?
Being keen to start real surveying as soon as possible, I completed a BSc Hons in Quantity Surveying at Portsmouth Polytechnic and from there went to work with a PQS firm in Warwick.  I became chartered only three years later.
Is your experience best measured in years or number of projects?
To my mind, there is no substitute for experience- the accumulation of outcomes, knowledge, successes and challenges that come with being exposed to many different situations over time. As a young, fresh, newly chartered surveyor in my 20s, I knew the theory, but after three decades working in the construction industry, working for clients and contractors, I now have a sixth surveying sense, that I could never have been expected to have as a younger person. So, for me, it's time served experience… 
Have you specialised in any particular sectors?
My experience has been broad, and I have always appreciated the variety that this has offered me throughout my career. Recently, my experience has been concentrated in the residential, care and leisure sectors but I always welcome and look forward to opportunities to become involved in new areas.
If you could have been involved in one project what would it be?
It would be the construction of Stonehenge. I admire this monument for its ancient beauty, but I also see it as a symbol of what can be achieved through collective will and collective strength. I see it as an extreme example of the power of teamwork, as well as an impressive feat of early engineering. I would have liked to have had a part in that.
At what aspects of the role do you excel?
I like handling numbers and I'm a stickler for detail: both traits are called upon on a daily basis as a QS. I also enjoy process management and am strong on bringing the various players in a project together to make the necessary decisions to move a project forward and keep up the necessary momentum towards completion. Many years of people management has given me an acute sense of where to go next and how to work with a team to get the job done.
What is the most exciting bit of delivering projects?
For me, the most exciting part of a project, has to be watching the evolution of a building from drawings to reality. Witnessing a project being brought to life and being actively involved in that process, is still something that fascinates and interests me.
What does 'together we can…' mean to you?
'Together we can' means that we are greater than the sum of our parts, a theory perfectly proved by the druids who built Stonehenge…
If you weren't in your current role, what would you be doing?
It's likely that I would be an Army officer. In my early teens, I spent some fun and exciting times in the Air Cadets learning to fly a glider, camping and shooting and then, in my early twenties, I spent three years in the Territorial Army. The army was definitely a pull on me as a young man. But given the troubled decade, that I lived through then, Quantity Surveying was almost definitely the safer option…
When not working where would you be found?
You would find me on my mountain bike, probably on a trail in the Forest of Dean or the Peak District. I like the solitude, the scenery and to escape to the country for exercise. Failing that, in the shed!
What tunes would your personal radio station play?
It would have to be 80's dance music, OMD, of course, like in my student days and favourite bands including Texas and Everything But the Girl.
What can't you live without?
Audio books are a great escape for me. I'm a big fan of Sci Fi books. I particularly like Iain M Banks, and most recently I've listened to HG Wells' War of the Worlds, which remains a great classic.
What's the best piece of advice you could give someone?
That's a difficult one but it would be when looking for a career, to be honest with yourself, about what you really love and what you're really good at. I did that and haven't regretted it.